METHOD RACE WHEELS - May Sale
Method Race Wheels designs, develops and distributes high performance wheels and accessories for race and street applications. These products represent their commitment to quality, driven by the high standards of performance.
As racing enthusiasts and participants, they are driven to look beyond conventional ideas of industry standards. Engineering, rigorous testing, data collection and proven performance redefines what is possible in the creation of their wheels and accessories. The application of their race knowledge separates them from other wheel companies.
Method Race Wheels is committed to bring you the finest quality products with the most complete line-up of off road race wheels for trucks, buggies, rock crawlers, short course, rally, and UTV's, as well as street wheels for truck, Jeep, and SUV applications. We pride ourselves on providing these products to our customers.
"Look for our banners, listen to our name, and watch our products in action. Method Race Wheels...Lighter. Stronger. Faster."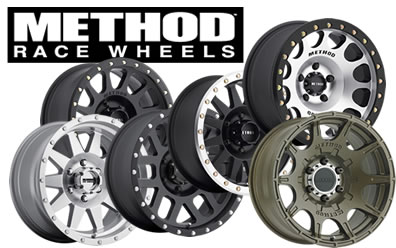 All Method wheels are discounted for forum members and come shipped free to the continental US until 5/31
GROUP BUY INFO:
DISCOUNT AMOUNT
: Use code "T4R" on our site to find out!
GROUP BUY DATES
: MAY 10 - MAY 31
PRODUCTS INCLUDED
: ALL WHEELS MANUFACTURED BY METHOD
SHIPPING
: FREE FREIGHT ON ALL ORDERS WITHIN CONTINENTAL US - Hawaii, Alaska, Canada - PLEASE MESSAGE FOR QUOTE
Find a better price? Have any questions? CLICK HERE TO MESSAGE US
Some of our favorite wheels below
106 Beadlock | Bronze
305 | NV | Matte Black
306 | Mesh | Matte Black
702 | Bronze
Need help locating a part? Click here to PM us - lets talk Method Race Wheels!
BATTLE BORN OFFROAD
FACEBOOK
|
INSTAGRAM
|
EMAIL