So I wanted to check my fuel pressure today....No problem right? WRONG, Toyota does not have an inline schrader valve to check fuel pressure. Instead I was left to figure out what size fittings i would need and where to get them. If you find yourself in the same situation....Your in luck friend, follow me and ill give you 3 possible solutions to your problems!
BACKSTORY:
First I looked at buying a fuel pressure testing kit. unfortunately most of the ones that actually have the parts that we need (quick connect) cost major money for a good set.
Solution 1 easy:
Fortunately harbor freight sells a complete set for $89.00 that includes the quick connect parts you need. if your fine with paying the money, congratulations your finished.
Link to harbor freight fuel test kit:
http://www.harborfreight.com/master-...kit-62788.html
For me though, I want the one part, for my specific car, and i don't want to waste my money on parts I don't need. So I did more digging online. I typed in "toyota 4runner quick connect fuel pressure gauge kit" and guess what
.....THEY DO NOT EXIST....at least i couldn't find it in my hours of searching. but I did find one person on Ebay selling a kit that would work.
.
Solution 2 :
I found someone on ebay selling a custom tester kit for $12.00. its super basic but it will do the trick.
This is the link to the ebay item:
Fuel Injection Pump Injector Tester Test Pressure Gauge Gasoline Cars Truck Tool | eBay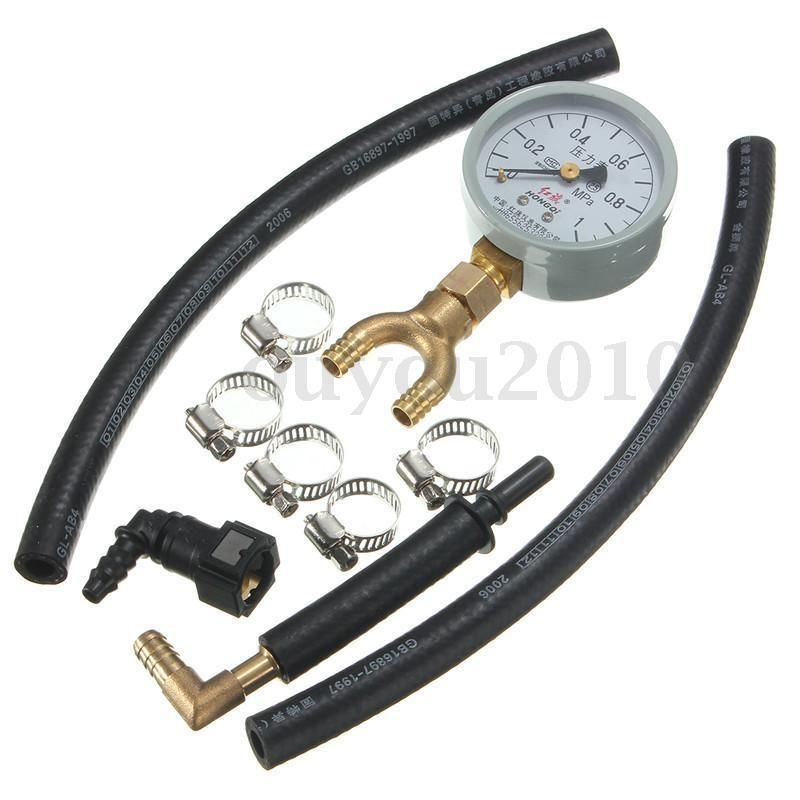 basically what your looking for is a fuel pressure gauge for 7.89mm male to 7.89mm female quick connect. you can tell what size quick connects you need by looking at the female side of your fuel line quick connect. it has a number written on it....that's the size in millimeters. if you can]t find it then measure the outer diameter of the male metal fuel line. 5/16" = 7.89mm. do not confuse this with the rubber fuel hose, this is also 5/16" but that is the inner diameter.
Solution #3:
If you cant find the part I'm talking about on ebay then you can also make your own (simple diagram below). To do this buy a cheap fuel pressure test kit with the hose & pressure release button...trust me, you want the pressure release button and clear plastic hose. If you don't buy one with the pressure release button, just be prepared to have some fuel spray out when you release the quick connect. With this you can snip off the schrader valve part & put on a "female 7.89mm K (or T) quick connect" this part has three sides. 2 for 5/16" rubber hose & one side is the female 7.89mm quick connect for your fuel line. You will also need to buy 1 "male 7.89mm straight quick connect" you might be lucky and have an awesome auto parts store that has these but more than likely you will find these on ebay or amazon. Now put them all together with some small hose clamps and you have your own custom Toyota 4runner fuel pressure tester kit!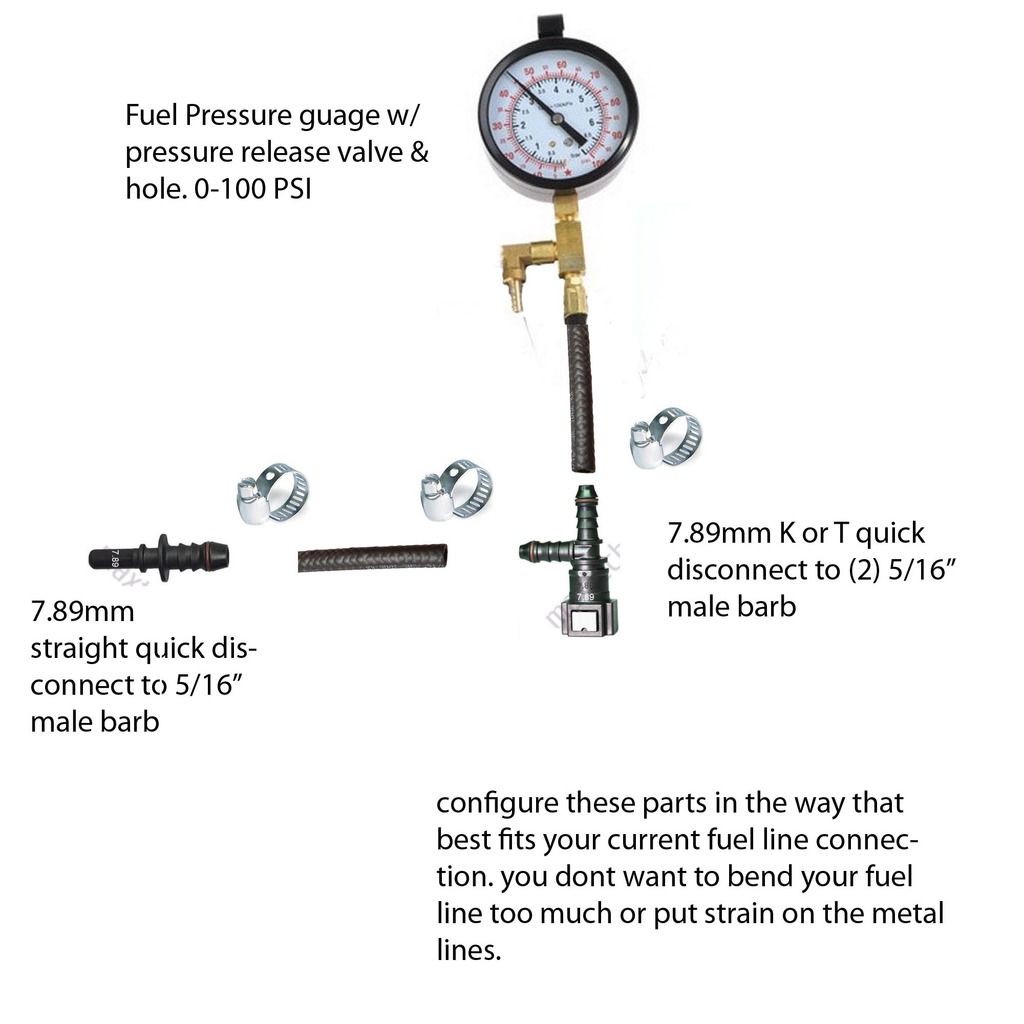 This is a good solution if you already have a fuel pressure gauge from an old car that doesn't work for the 4runner. The fuel pressure gauge will cost you 20 - 40 depending on where you buy it from, if you don't already have one. The two fittings, hose, clamps will run $10 - $15
extra credit: If you want, you can still save the schrader valve quick connector by cutting it off with a few inches of hose. then all you need to do is buy a 5/16 male barb to 5/16 male barb fitting. now you have two pressure testing adapters!
OH, and if this works for you, post it in the comments